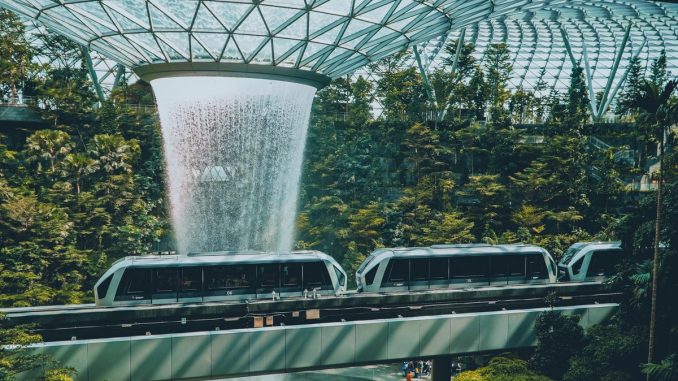 Most travelers dread waiting to board their flight when they're at the airport, especially when they have to come a few hours ahead just to check in. Some pass the time by watching their favorite shows on the internet, while others prefer to carry a book in case their phones lose battery.
But for an airport like Singapore's Changi, boredom is simply not possible. With the sheer amount of activities and pastimes spread throughout the 1,300 hectares of land, you'll sooner lose your waiting time than to be able to see all the attractions inside it.
Changi Airport doesn't have the world's best airport title for eight years in a row for nothing. However, you'll only realize how much you're missing out on until you experience being in the airport firsthand, which should easily be part of your travel bucket list when coming to Asia.
The wonders of the airport do not only appeal to the foreign travelers who pass through one of Asia's largest transportation hubs every day but also to the locals who enjoy hanging out there even if they're not waiting to board a flight. That alone should tell you just how amazing the traveler experience is.
1. Eat
There's no better way to spend your time waiting for your flight than to take part in the extensive Changi Airport food. With so many options to choose from, you're going to be in for a real treat because that task in itself is already a great way to pass the time. But it could be wise to research ahead of your flight.
Inside the airport, you can choose among different cuisine options such as Indian, Japanese, Chinese, and other Asian flavors that you might have yet to try. There are also Western food and Halal options if you prefer those over the ones mentioned above.
You can also choose the atmosphere you want to be in because there are cafes, restaurants, and fast food options you can look into. Of course, your food options will depend on the length of time you have left before your flight, so if you want to try getting into a fancier restaurant, it could bode well to book ahead.
2. Relax
If you still have plenty of time before your flight, but you want to stay somewhere closer to the airport instead of staying in your accommodation inside the city, it could be best to get a room at the hotel. YOTELAIR is perfect for travelers who need a place to stay for a few hours or even overnight.
But if you just want to relax and pass the time without having to book a room, there are also plenty of places where you can do that. For instance, you can stay at the Changi Lounge, where there's an internet connection and charging outlets if you just want to lay back to catch up on your favorite shows.
There's also a free Snooze Lounge for weary travelers who want to sneak in a nap before their flight, and a free Movie Theater that plays 24 hours, which means you can catch a film at any time. But if you prefer to relax in nature, you can stay inside the Butterfly Garden, which is home to more than 1,000 butterfly species and beautiful flowering plants.
3. Explore
Apart from the many restaurants and relaxing scenic views, Changi Airport also boasts of so many attraction sites that can easily take you a few hours to explore. For instance, there's the Shiseido Forest Valley, HSBC Rain Vortex, as well as the Canopy Park and Bridge that can all be seen at the Jewel.
If you feel like bouncing among the trees or balancing on a tight rope, you can give the Manulife Sky Nets a whirl. But if you prefer a more low-key approach to pastimes, you can choose among the hundreds of stores for some last-minute gift shopping before you head back home.
However, if you have more than five hours to spare before your flight leaves and you didn't have the chance to actually explore the city when you were there, Changi Airport also offers free city tours to foreign travelers. You might have to book ahead to secure a spot, but the tours are free for anyone's taking.
With so many ways to pass the time inside the airport, you might even willingly want to check-in earlier just to have an excuse to experience everything that Changi has to offer. Sooner or later, you'll find yourself planning your flight layovers to be at Changi so that you can experience it again and again.