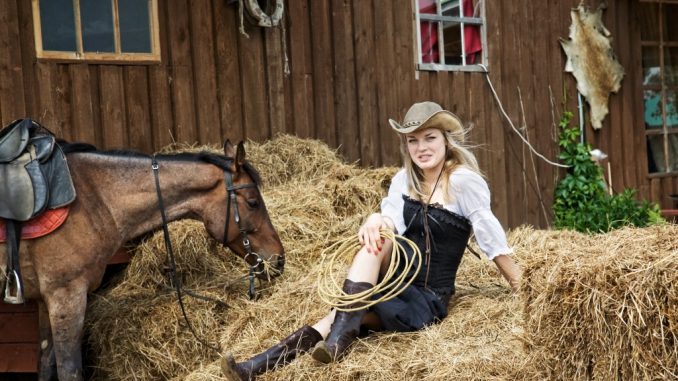 Lady Gaga just recently debuted her latest style preference: The cowgirl look. From wearing a lot of custom pink cowboy hats to actually owning a horse of her own, she is living – and loving – a bit of the Western life. The iconic Hollywood star caught the attention of fashion enthusiasts everywhere, sparking the revival of the trend – in fact, the style has been spotted in several of the latest runway shows. Surely, celebrities and influencers have followed suit and are beginning to embrace a Western fashion sensibility, too.
A Brief History of Western Fashion
The timeless classic that is the cowgirl look has been around since the early 1900s, originating with long and frilly pieces of clothing. Today, it has evolved to so much more than that. Cowgirl hats and Western boots, paired with avant-garde pieces straight off the runway, rule the street fashion scene. In casual wear, skinny jeans and denim shorts have replaced the long skirts that match flannel button-downs and wide-brimmed hats. But no matter what your styling preference is, here's how you can channel your inner cowgirl at any occasion.
Summer Festivities
Summer days mean music festivals and long vacations that let have you spending hours outdoors, enjoying with friends. Straw cowgirl hats offer protection against the harmful UV rays of the sun while still keeping you stylish. These vented hats are sure to be a summer staple, already being used by supermodels and artists alike.
Fringed clothes and accessories also make a bold fashion statement. The fringe style has been around since the dawn of cowgirl fashion and its versatility has carried it over to the next generations. Big fashion retailers are still incorporating fringe into their summer collections, making it a true Western icon.
Spring Affairs
The cool yet sunny days that this season bring are perfect for having birthday parties and outdoor brunches. Baby showers and bachelorette parties are popular in the spring, as well. Show up in style by pairing cowgirl boots with a blouse and jeans combo or a sundress and finish it off with a denim jacket to keep you cozy, as some parties can last until the evening. You may also add a stylish cowgirl hat for a laid-back Western look that even Hollywood stars opt for.
Western Weddings
One of the most popular trends in weddings nowadays is Western themes and motifs. Set against stunning valleys, cowboy and cowgirl elements and outfits make for a storybook wedding, Old West style. Spruce up your wedding outfit by ditching the typical pumps and donning cowgirl boots instead. Pair them with your choice of an on-trend pantsuit or a long dress for a formal look. You may also incorporate the Western look into your outfits for winter occasions by throwing your favorite wool coat over your stylish outfit and matching it with a wool cowgirl hat.
Trends in fashion change constantly but the Western look is an enduring, endearing style that is nostalgic yet refreshing. The versatility of the cowgirl look from casual wear to formal wear is truly a great factor to it being a timeless yet on-trend style.