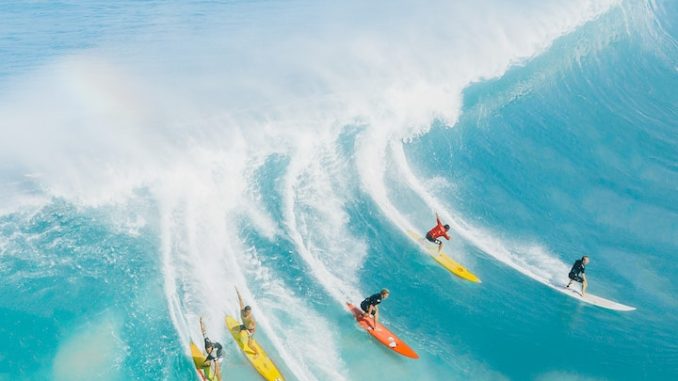 Travel restrictions have been gradually easing out, and the future of travel and tourism is slowly picking up again. 
According to several forecasts, 2022 is the year the industry is expected to reach a significant recovery. Moreover, many tourists have planned to go all-out and visit the best travel destinations in the world. In a global survey by Expedia, about 68 percent of the 12,000 Americans said they would go big on their next trip.
As for the most popular travel destinations in the U.S., Hawaii is always on top of the list. After all, who can resist its stunning beaches, gorgeous sunsets, and amazing landscapes? 
The 50th state of the U.S. is blessed with natural beauty and a laid-back lifestyle attracting tourists from all over the globe. If you're one of those people planning to travel to Hawaii soon, you might be wondering: do you need a passport to go to Hawaii?
How far is Hawaii from mainland USA?
Hawaii is an archipelago of over nineteen volcanic islands in the central Pacific Ocean. It is estimated to be 2,000 miles (3,200 kilometers) southwest of the contiguous United States.
With this distance, there are no land connections between the mainland USA and Hawaii. There are also no bridges or ferries that connect the two areas. Ferries might not stand a chance when crossing the Pacific Ocean because of the enormous storms and big waves.
Keep in mind that although Hawaii is southwest of the mainland U.S., the curve of California's coastline means that Hawaii is closer to northern cities like San Francisco. Flying to Hawaii from California is, therefore, a shorter flight. That means more time to enjoy travel activities in Hawaii.
How long is the flight from SEA to Hawaii?
A non-stop flight from Seattle-Tacoma International Airport (SEA) to Honolulu International Airport (HNL) is five hours and thirty-seven minutes. 
Meanwhile, the flight time from SEA to Kailua-Kona International Airport (KOA) is five hours and fifty minutes. These figures assume the average flight speed for a commercial airliner of 500 mph, which is approximately 805 km/h or 434 knots.
This timeframe comes with additional factors such as the plane pulling back from the gate, taxiing to the runway, and reaching the gates after landing. If you include this extra time, the average elapsed period from SEA to HNL is six hours.
Do Americans need customs in Hawaii?
Customs clearance is unnecessary for U.S. citizens entering Hawaii from another U.S. state. However, upon arrival, all visitors must present valid proof of identity, such as a driver's license.
You will go through an agricultural inspection upon arrival in Hawaii. All fresh fruits and vegetables must be declared and inspected. You can bring up to 3 pounds (1.4 kg) of fresh produce per person into the state.
Other items that you must declare include meats, animals, birds, plants, and soil. For more information on what can and cannot be brought into Hawaii, visit the U.S. Customs and Border Protection website.
Can I fly to Hawaii without a passport?
If you are a U.S. citizen, you can fly to Hawaii without a passport. You will only need to present a valid form of identification, such as those above. The same goes for permanent residents of the U.S. If you have a green card, you can also travel to Hawaii without a passport. Bring your green card and another form of identification, such as a driver's license.
However, suppose you are not an American citizen. In that case, you will need a passport to visit the Hawaiian islands as they are a part of the USA. So be sure to apply for one and prepare it before your trip.
What documents do I need to travel to Hawaii?
Traveling to Hawaii is the same as traveling to any other U.S. state. That means you need to submit travel documents such as valid identification. The Transportation Security Administration (TSA) allows the below documents as valid identification:
U.S. passport

Driver's licenses or other state photo identity cards (or equivalent)

DHS trusted traveler cards

Permanent resident card

U.S. Department of Defense ID

Other identifications on

the website
For foreign visitors, a visa is also a must. The visa requirements depend on your nationality, and you can get the type of visa you need from the U.S. Embassy or Consulate in your home country. This requirement is an exception for Canadian citizens and a few other nationalities that are part of the Visa Waiver Program.
Citizens of these countries can visit Hawaii for business or tourism purposes without a visa for stays of 90 days or less, as long as they meet the other requirements. These countries include the United Kingdom, Australia, South Korea, Belgium, and Spain.
Remember that even if you don't need a visa to enter the U.S., you will still need a passport valid for at least six months beyond your stay. Before boarding your flight to Hawaii, you must complete an Electronic System for Travel Authorization (ESTA).
Can I travel to Hawaii with just my driver's license?
Yes, you can travel to Hawaii with just your driver's license. However, it must be a REAL ID-compliant driver's license.
The REAL ID Act is a federal law that was passed in 2005 in response to the September 11th terrorist attacks. 
The act establishes minimum security standards for license issuance and production. To be compliant, your driver's license must have a star symbol in the upper-right corner. Suppose your license doesn't have this star. 
In that case, you must present another form of identification, such as a passport, when flying domestically within the U.S.
Hawaii is a state that fully complies with the REAL ID Act. So if you have a REAL ID-compliant driver's license, you can use it as your primary form of identification when flying to Hawaii. 
If you don't have a REAL ID-compliant driver's license, you can still use your regular driver's license to fly domestically within the U.S. However, when going through airport security, you must present another form of identification.
Remember that the REAL ID Act is unrelated to the Hawaii state driver's license. It's a federal law that all states must comply with. So even if your driver's license is from Hawaii, it may not be compliant.
The above are some documents you need when planning to travel to Hawaii. Make sure to have them ready before your trip so you can breeze through the airport and enjoy your vacation hassle-free.