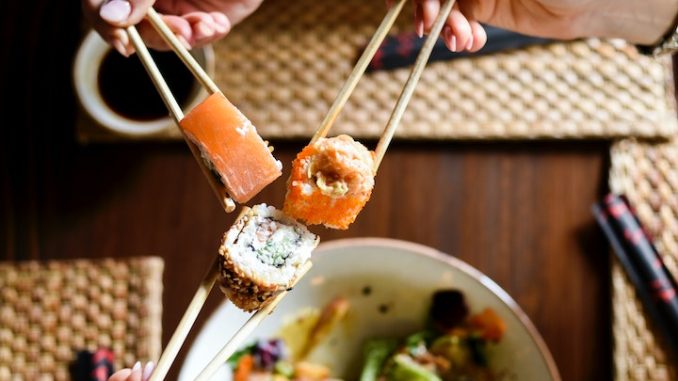 As the saying goes, "you are what you eat." If that's true, then Japan is a nation of sumptuous sushi and succulent sashimi. From humble izakayas to Michelin-starred restaurants, Japan is home to some of the most delicious eats on the planet. 
If you plan to visit Tokyo, Osaka and Kyoto, here are the ten best restaurants in Japan that will tantalize your taste buds like never before.
1. Nisshin Tasuke – Tokyo
In the bustling streets of Tokyo's Tsukiji Fish Market, Nisshin Tasuke is hidden away, serving up some of the city's best unagi (eel). The tiny restaurant serves many skewered fresh seafood dishes, but the eel is the star of the show. Donburi, or rice bowls topped with grilled fish, are available in various sizes and can be ordered grilled.
The food is also budget-friendly, with the unagi skewer costing only JYP 200. Nisshin Tasuke is open from 6:00 am to 3:00 pm.
2. Den Shichi – Kyoto
Many people visit Japan to indulge in the finest sushi and sashimi, and Den Shichi in Kyoto is the perfect place to do that. 
The Japanese cuisine restaurant has an unpretentious atmosphere with warm hospitality, and the sushi has some of the freshest raw fish you will ever taste. 
Located in Saiin, a quiet residential neighborhood, Den Shichi is a top sushi restaurant, the perfect place to enjoy a delicious meal without spending a fortune.
They are open from 11:30 am to 2:00 pm and 5:00 pm to 10:00 pm. If you want to try the restaurant's quality sushi, try to get there early because there's bound to be a long waiting line.
3. Takoyaki Doraku Wanaka – Osaka
Takoyaki Doraku Wanaka, a restaurant specializing in takoyaki (octopus balls), is a must-try in Osaka. The takoyaki here is some of the biggest and most delicious you will ever have. Their famous classic takoyaki is served (very) hot with a generous portion of mayonnaise, takoyaki sauce, and bonito flakes.
The restaurant has several branches around Osaka as it is a big chain, so you're bound to find one near you. Store hours will vary depending on the site, but most are open from 11:00 am to 10:00 pm.
4. Harajuku Gyoza Lou – Tokyo
Gyoza (dumplings) are a staple of Japanese cuisine, and Harajuku Gyoza Lou in Tokyo is one of the best places to have them. The gyoza here are pan-fried or steamed; you can choose to have the dishes with just ground meat or with garlic and chives.
The dumplings are affordable at only JPY 290 for an order of six. The restaurant is popular with locals and tourists, so be prepared to wait in line, but it's definitely worth it. Harajuku Gyoza Lou is open from 11:00 am to 3:00 am.
5. Okonomiyaki Mizuno – Osaka
Okonomiyaki, a Japanese cuisine, is a savory pancake with various Japanese ingredients such as cabbage, pork, shrimp, and cheese. And Osaka is the city to try it. Okonomiyaki has been on the menu at Okonomiyaki Mizuno, an establishment with a Michelin star, for decades since 1945.
Expect a long line at this restaurant, which is popular with visitors and locals—budget around JPY 1,000 for a meal here. Okonomiyaki Mizuno is open from 11:00 am to 9:00 pm.
6. Kikunoi Main Restaurant – Kyoto
Kikunoi Main Restaurant, or simply Kikunoi, is a world-renowned kaiseki restaurant (traditional Japanese cuisine composed of course meals) offering a seasonal menu that has been around for over 100 years. 
The restaurant is in a ryokan (traditional inn), and the garden setting is just as beautiful as the food. You can also enjoy the view with some travel self-care tips to help you relax.
Kikunoi has been awarded three Michelin stars, and a meal here will cost you around JPY 25,000 to JYP 65,000. Reservations are required, so make sure to book in advance.
7. Oreryu Shio Ramen – Tokyo
Ramen is one of Japan's signature dishes, and Oreryu Shio Ramen is one of the best restaurants in Tokyo. The restaurant specializes in shio ramen, a clear soup made with salt and chicken broth. The noodles are thin and have minimal Japanese ingredients as toppings, but the soup is flavourful and satisfying.
Shibuya Crossing is only a short walk away, allowing you to get there easily. Expect to spend around JPY 1,000 for a meal. Oreryu Shio Ramen is open from 11:00 am to 12:00 mn.
8. Shigetsu – Kyoto
Shigetsu is a popular shojin-ryori (Buddhist vegetarian) restaurant in the famous Tenryu-ji temple, a World Heritage Site. 
The restaurant is in a small garden, and the setting is tranquil. Shigetsu is the perfect place to stop for lunch after visiting the temple. If you are experiencing the challenges of a healthy lifestyle while traveling, a shojin-ryori meal is a great way to enjoy your dining experience while staying on track.
The restaurant serves delicious shojin-ryori, which follows the rules of traditional Buddhist vegetarian cooking. If you want to try the food here, expect to budget around JPY 4,000 to JPY 9,000. Shigetsu is open from 11:00 am to 2:00 pm.
9. Iroha – Osaka
Iroha is a Michelin-starred restaurant that is popular with both locals and tourists. Iroha's expert chef serves traditional Japanese course meals as a kaiseki cuisine restaurant. 
Meals are beautifully presented and chefs use seasonal seafood and ingredients. Alongside the finest quality Kobe beef, the most popular course is the Saga wagyu beef sukiyaki.
If you want to try the food here, expect to budget around JPY 15,000 to JPY 20,000. Iroha is open from 5:30 pm to 10:30 pm for dinner reservations.
10. Miyako – Tokyo
Fukagawa meshi, or rice with clams, is a popular dish in Central Tokyo, and Miyako is one of the best places to try it. The restaurant has been serving the dish for many years and is still as popular as ever. The rice is cooked with clams caught fresh every day and other seasonal ingredients.
The dish is affordable at around JPY 1,800, and the restaurant is open from 11:30 am to 2:00 pm and from 5:00 pm to 8:30 pm.
When it comes to food, Japan is a paradise. With so many delicious and unique dishes to try, it's hard to narrow it down to just ten restaurants in Japan. However, these are some of the best places to start if you want to try some of Japan's best food. 
Make sure to stay healthy while traveling to avoid getting sick. Most importantly, enjoy your meal.
Japan is well-known for its delicious food. From sushi places to tempura restaurants, there are so many mouth-watering dishes to try. And with so many great restaurants to choose from, it can be hard to know where to start. Ask any local, and they'll tell you these ten restaurants are a must-try.