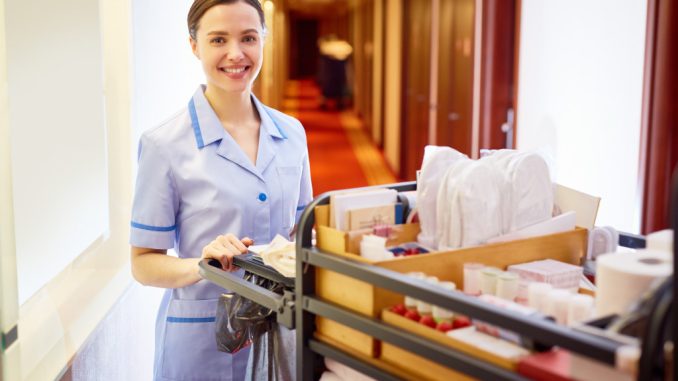 Hotels are famous for catering to leisure travellers and special celebrations. But apart from those, consider focusing on business travellers too. With the increasing number of individuals staying at hotels for work-related purposes, attracting them into your hotel. What's great about business travellers is that they also love recommending the accommodations they stay at.
So if you can give them excellent service, you can expect positive word of mouth. According to reports, corporate travellers tend to extend their trips. They need to accomplish more tasks given to them, or they need more time to explore the destination.
1. Build work or lounge areas
This should be pretty obvious. Business travellers are always looking for areas in hotels where they can comfortably get some work done. Not everyone would want to spend their entire stay in their rooms. That is why creating work areas with comfortable seating and tables are crucial. You can use an indoor closed space or utilize the outdoors and set up shaded seating. Use a space that isn't near your hotel's busy zones such as the restaurant, bar, or main lobby.
If you have limited space, you can use smaller rooms and fill them with up-to-date computers, ergonomic work desks and chairs, good lighting fixtures, and coffee stations. There are also business travellers who love to work casually in the lounge and won't mind a few distractions. For this, ensure to also set the ambiance into something relaxing so they can socialize too. Your staff should also be ready to offer complimentary food or drinks upon the guests' arrival.
2. Offer a loyalty program
The next aspect you need to consider is creating a loyalty program that can encourage the guests to keep on booking at your hotel. Business travellers have endless reasons to always stay in commercial accommodations. They might need to oversee a new project or a branch office, meet with other clients, or attend annual conferences. They can go to the same place multiple times a year. With a loyalty program, you're giving them an outright option to stay at your hotel every time they visit your location. Provide your guests with discounted stays, room upgrades, free gifts, or food vouchers after accumulating a specific number of bookings.
3. Highlight your amenities
Most hotels often put their entertainment and leisure amenities in the spotlight to attract guests. While that's a norm in the industry, you need to think about how to set your hotel apart from the competitors. So, besides focusing on the fun parts of your hotel, highlight the functional ones to attract business travellers. These include private work or meeting spaces, 20-hour facilities, complimentary Wi-Fi, a business center, easy-access charging ports, and even on-site food and drinks.
If you have the budget to set up work zones with helpful equipment, such as multiple charging stations, a TV or screen with Bluetooth, or a projector, do so and promote them. As for the on-site food and drinks stations, you don't necessarily need to set up a new kitchen near your business-friendly amenities. You can use industrial food carts and trolleys to deliver food and leave them there. This isn't only convenient but also a safe way to minimize direct contact. Investing in more carts and trolleys is surely way cheaper than building a new kitchen near the business-related amenities. Most of these guests will have their electronic devices with them, so be sure they can use them without hassle while staying in your hotel.
4. Upgrade shuttle service
Most hotels, especially big ones, have their own shuttle services. This is beneficial for getting guests from point A to point B without any hassle. As for others, they use local taxis and rideshare apps to get around the destination as they only offer airport shuttle service. The thing is, this option is not suitable if you're planning to appeal to business groups. These guests want reliable, practical, but still affordable transportation options.
If your hotel already has an airport shuttle service, allow your corporate guests to book the ride within a specific distance or number of passengers. You can give rides to locations such as local shopping centers, restaurants, grocery stores, expo and conference centers, and offices of other businesses.
Business travellers can be a profitable group of guests for your hotel. However, they can be more meticulous with the quality of accommodation and service they want to receive. Up your standards when it comes to keeping your hotel clean, comfortable, and aesthetically pleasing. Follow our tips right here too, and wow your business guests.