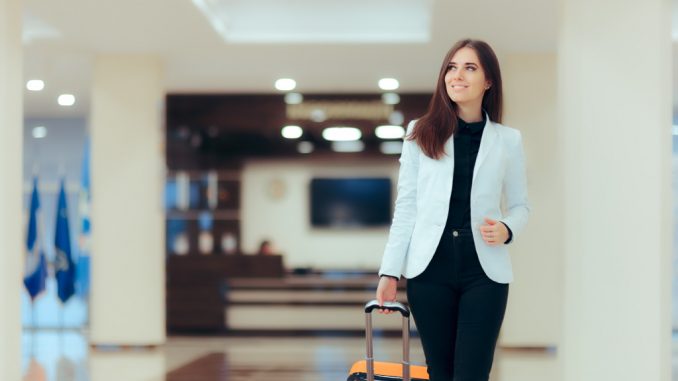 Is it a little wonder we want to be as comfortable in the plane as possible? We sometimes feel the urge to wear our ratty old pajamas when traveling because it's so uncomfortable to sit in the plane for hours, especially if it's a long-haul flight. However, as much as we want to just wear sweatpants, shirts, and slippers, we know that we must also look presentable once we arrive at the immigration. We don't want to bother ourselves to change in airport restrooms, too, so what choice do we have but slither into skinny jeans and crop top, right?
Wrong. Why do you feel the need to be uncomfortable inside the plane? Whether it's a short or long flight, you should wear what makes you feel comfortable. Life is too short not to be comfortable in your own clothes. That being said, there's also no reason for you to wear your pajamas to the airport. There are a lot of ways to be comfy and trendy in the airport.
Joggers + Tee + Jacket + Sneakers
Instead of wearing sweatpants, why don't you wear joggers instead? It's the dressier version of sweatpants, but it's more presentable. Joggers are more tight-fitting, too, so they pair well with a nice shirt or blouse and a leather jacket. If it's too warm in the airport, sling the jacket over your bag or shoulder. Just put them on when you need to look like you actually care about how you look, which is mostly for immigration purposes only. People generally don't care about how they look once they are seated down.
Gym Leggings + Tee + Denim Jacket + Gym Shoes
Think about how you would like to look when you go to the gym. Now, clean that up nicely with a denim jacket or a more apt coat (depending on your destination), and you'll be airport-bound. Choose the best pair of gym leggings you can find. You can check out powerlifting brands such as Iron Rebel because they have quite a selection of yoga pants, gym leggings, shorts, and crop tops.
As for your shoes, go for your gym shoes. They're the most comfortable pair you have. If you're using them for running and jumping and doing all sorts of things in the gym, then they're the best ones to join you for a 17-hour flight.
Ripped Shorts + Tee + Sneakers
Look, if you're going somewhere tropic, better look the part. Ripped shorts and a basic tee is the combination you want to hear and you're in for a treat since it's an acceptable airport outfit. It'll feel like you're just going to the grocery, right? This works well if you're going to Hawaii or Bali. It's definitely not something you should wear on a trip to Paris or Rome. You may want to don on a trendier outfit for the City of Lights.
Leggings + Loose Blouse + Leather Jacket + Boots
All you need is a good pair of boots to look trendier than most of the passengers. Make sure the boots are comfortable enough, so your feet won't be killing you at the end of a two-hour layover. You can pair this with skinny pants or leggings and loose blouse. The pants should have a comfortable material, so it doesn't feel too constricting when you sit or sleep. The loose blouse is so you don't have to worry about your skin peeping out when you have to navigate through the airport.
If the leather jacket is too heavy for you, a camel coat will also look nice. If you're going somewhere warm, you can forget about the jacket and just pack a shawl so you can wrap it on you when it gets too cold on the plane. Sometimes, jackets and coats are a bit much.
Ripped Jeans + Basic Tee + Ankle Boots
Again, it's okay to go to the airport looking like you're running a bank errand. Ripped jeans and a basic tee are things you will normally wear to the mall. Pair it up with ankle boots and you'll be ready for the twinkling lights of New York's Times Square. You can also tie a plaid shirt around your waist. You can use it as cover when it gets too cold in the boarding area. You can do away with it if plaid shirts are not your thing.
You'll spend hours at the airport and plane. You have to be as comfortable as you can without looking like a homeless person trying to find where Gate 7 is. Even if you're on a domestic flight, you need to look presentable, so try on some of these outfits and choose what's best for you.