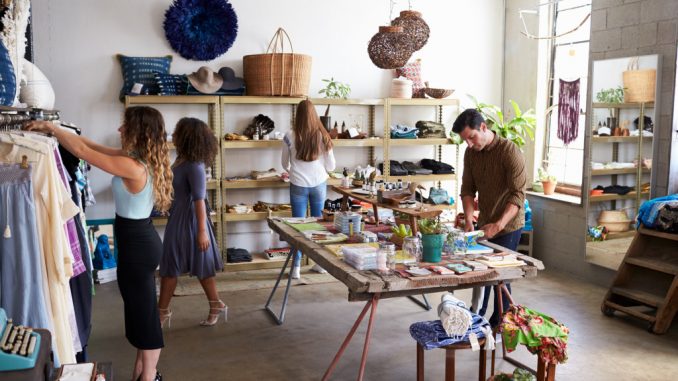 The coronavirus pandemic has threatened the lives of many businesses across the globe. Several non-essential stores were forced to close temporarily. Some shops are shutting down for good. In the U.S., mandatory lockdown severely impacted discretionary retailers. Department store sales dropped by 19.7%, while clothing and clothing accessories declined by 50.5% in March alone. Major department stores and brands like Macy's, Nordstrom, GAP, and Nike suffered massive losses.
However, it was the small businesses that have been hit the hardest. In fact, in the U.S. alone, nearly 100,000 establishments that closed during the peak of the pandemic are now permanently out of business, according to recent statistics. Small retailers in San Francisco, New Orleans, and Honolulu were the most severely affected. Nearly a quarter of small businesses in the said cities remained closed to this day, particularly in the leisure and hospitality sector.
But after many months of lockdown, all 50 states in America are gradually reopening their economies. Nearly eight in ten small businesses have either fully or partially reopened, according to the latest poll done by the U.S. Chamber of Commerce and MetLife. These also include non-essential retailers, provided that they adhere to health and safety protocols.
The gradual reopening of shops offers a bicker of hope for retailers amidst these trying times. However, if you are planning to reopen your shop and start anew soon, here are some things that you need to consider:
1. Monitor government-mandated protocols.
Local and national governments are continuously implementing strict regulations to ensure the safety of employees and customers alike. Businesses will have to comply with specific requirements before they can reopen. Keep yourself and your employees updated on the current mandates from your local authorities. This will help you prevent any legal mishaps as you get back in business.
2. Create a reopening plan and cascade it down to all your employees.
The COVID-19 pandemic has transformed how people behave, especially when shopping and spending their money. Having a well-thought-out reopening plan can help you adjust to these behavioural changes. Assess how your customers have changed in terms of their needs and wants. Then, remodel your business plan according to your findings.
Make sure to plan for the long term. Include your operational and financial plans for the post-COVID-19 world. This will help you ensure business continuity and build resiliency even during future emergencies. Also, keep your employees updated as to how you will operate moving forward. Assure them of their safety by providing personal protective equipment and sanitation tools. Create a return-to-work schedule that can limit the overcrowding of employees during business hours. If possible, consider doing a dry run in-store before your scheduled reopening.
It is also vital for you to inform your customers regarding your preparation efforts to ensure their safety when visiting your store. Cascade your new rules like the mandatory wearing of face masks and maintaining social distancing before reopening to manage the expectations of your customers.
3. Incorporate social distancing measures in your new store layout.
Social distancing and the wearing of face masks will remain even after the pandemic subsides. Revise your store layout by widening your walkways to allow customers and employees to move freely while maintaining at least six-feet distance. Display your items on open long-span shelves that customers easily reach without needing much assistance from store workers. Provide a spacious area for queuing to limit the number of people inside your store.
4. Establish Omni-channels for pick-ups and deliveries.
Despite the widespread reopening of businesses across the country, many individuals are still reluctant to shop at physical stores. With this, establishing multiple platforms for order pick-ups and deliveries is extremely vital. Several store owners are implementing order online, pick-up in-store channels to limit physical interactions. Providing contactless deliveries and cashless payment options effectively maintain social distancing between your employees and customers.
5. Conduct regular check-ins and training with all your employees.
Adjusting to the new normal can be quite difficult, especially for your employees. Help them cope with the drastic changes by checking in on them regularly and conducting relevant training, especially on health and safety protocols. Seek their opinions on how you can manage the store more efficiently. Ask them about their safety needs and try your best to provide them immediately. Your employees are your most valuable asset, so make sure that they are well taken care of.
Business operations after the pandemic will never be the same. Preparing yourself and your employees to operate in the new normal can ensure the uninterrupted growth of your business, even in the midst of calamity.