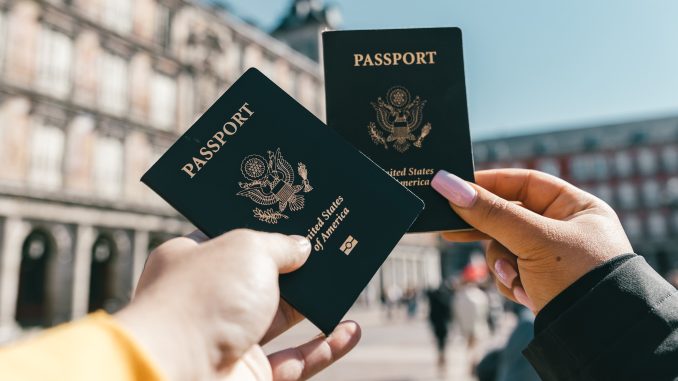 Puerto Rico is a Caribbean island territory of the United States. It is located between the US Virgin Islands and the Dominican Republic. Officially called the Commonwealth of Puerto Rico, the island is part of the Greater Antilles and is a territory of the United States.
The numerous tourist sites on the island are among the reasons people travel and visit Puerto Rico. The island is also among the most accessible Caribbean destinations for Americans to visit.
Facts About Puerto Rico
Around 20 percent of Puerto Ricans are fluent English speakers. English and Spanish are the two official languages on the island. 
Puerto Rico is one hour ahead of Eastern Standard Time since it is in the Atlantic Standard Time Zone. But its time zone is the same as Eastern Standard Time between March and September since it does not observe Daylight Savings Time.
Since Puerto Rico is a US territory, the currency used on the island is the US dollar. Additionally, US citizens do not have to deal with international calling charges when they use the cell phone service in Puerto Rico.
San Juan
San Juan, the capital of Puerto Rico, is located along its northeastern coast. The city has over 355,000 people and consists of several neighborhoods, including Old San Juan, Rio Piedras, Miramar, Hato Rey, Santurce and Punta Las Marias.
Traveling to Puerto Rico
Puerto Rico is among the best travel destinations in 2019. But people should consider some travel tips after the end of the pandemic if they want to visit Puerto Rico. While the mask mandate was already lifted, the authorities recommended wearing masks in cases where vaccination status is not known. Domestic travelers also do not need to show a negative PCR test or proof of vaccination.
But people should continue to practice social distancing, and businesses often have health protocols that visitors should be aware of. It's best to get in touch with these businesses about their protocols. Observing these protocols is now a part of the future of travel and tourism worldwide.
Flights entering Puerto Rico from the US mainland are considered domestic flights. So, travelers do not need to upgrade their cell phone plans or exchange their currency. The Luis Muñoz Marín Airport in San Juan is one of the three international airports in Puerto Rico. Over 20 airlines operate flights to and from the island.
Puerto Rico is a safe destination for a summer getaway. The weather is warm and humid, with an average temperature of around 80 degrees Fahrenheit. Hurricane season starts in June and runs up to November, so it's best to avoid travel during that time. So, do you need a passport to go to Puerto Rico?
Documents Needed to Visit Puerto Rico
Unlike Guam, the Northern Mariana Islands, American Samoa, and the Swains Island, an American citizen can easily enter Puerto Rico. Since the island is a US territory, American citizens can travel there without a passport if they travel from the US mainland.
They can use their government-issued ID, such as a driver's license, and proof of citizenship, such as a birth certificate or naturalization certificate. A US citizen does not have to wait for clearance from Puerto Rican Customs after arriving from the mainland United States.
After the island became a non-incorporated territory of the US, Americans enjoyed passport-free travel to Puerto Rico. They only have to bring identification documents proving they are United States citizens. But if Americans enter Puerto Rico from a foreign country, the passport requirement will apply when they arrive at the airport.
Real ID Act
Americans should ensure their state is compliant with the Real ID Act when it takes effect in May 2023. The Act passed in 2005 by Congress sets standards in the issuance of proof of identification.
 After the Real ID Act takes effect, certain federal facilities will only accept a state-issued driver's license if it meets the new standards. 
Travelers without a compliant government-issued photo ID will need to use an alternative form of identification, such as a passport, when flying or entering federal facilities.
Lawful Permanent Residents
Lawful permanent residents (LPRs) can also visit Puerto Rico without a passport. Puerto Rico's entry requirements for LPRs are a government-issued ID and immigration papers. However, the United States Customs and Border Protection (CBP) recommends that they carry their green card or permanent resident card and passport when traveling.
Puerto Rico is an excellent destination for US citizens and lawful permanent residents. Whether you're looking to relax on the beach or explore the island's culture, Puerto Rico has something for everyone.
Non-US Citizens
International travelers who are not US citizens or LPRs should follow the same documentation requirements when they visit the US mainland. They need to have a valid passport and possibly a visa when traveling to Puerto Rico. 
They should check with the nearest US embassy or consulate to find the documents they need. It's also a good idea to check with the airline or travel agency to see if they have any requirements.
Places to Visit in Puerto Rico
Puerto Rico is among the best places to visit for a United States citizen. The island has a rich history and culture. Visitors can also look forward to pristine beaches and the numerous travel activities that the island has to offer.
Beaches
Puerto Rico has a coastline stretching for 270 miles. It features around 300 beaches that offer a diverse range of experiences. The beaches here have something for everyone, whether you are looking to relax in the sun, try out some water sports or explore underwater life. 
You can find secluded coves with beautiful white sand and clear blue waters or more popular beaches that attract people from all over looking to enjoy the waves. Whatever your preference, Puerto Rico's beaches are sure to please.
Some of the most popular beaches in Puerto Rico include Flamenco Beach, Cabo Rojo, Fajardo, Rincon and Aguadilla. There's no question that swimming gear is among the products every traveler needs when visiting Puerto Rico.
Food
Many travelers also go to Puerto Rico to indulge in authentic Puerto Rican food. Some popular dishes include mofongo, Arroz con gandules, pasteles, tostones, coquito and tembleque. 
These dishes are incredibly flavorful and an excellent way to experience the culture of Puerto Rico.
Visitors can enjoy huge portions of crispy, fried plantains and slow-roasted pork. These two dishes are some of the most popular in Puerto Rico and are worth trying. 
The food is a big part of what makes Puerto Rico so special, so be sure to indulge while you're there.
History and Culture
This Caribbean destination is rich in history and culture. It also has beautiful colonial architecture visitors must visit when they arrive in Puerto Rico.
Old San Juan
Old San Juan is among the most iconic places in Puerto Rico. With a history spanning 500 years, the cobblestone streets and unique architecture are a must-see. 
The best way to get around and see all the landmarks is by riding on the Garita Carts, free golf carts that will take you to places like El Morro, Cuartel de Ballajá, and La Fortaleza. Guided tours are also available if you want to learn more about the rich history of Old San Juan.
Santurce
Santurce is home to several galleries, including the Museo de Arte de Puerto Rico and Museo de Arte Contemporáneo. The area has become an arts and culture hub, with many buildings displaying murals by local artists.
The neighborhood also hosts several elegant restaurants and pop-up eateries. Lote 23 is a popular gastronomy park with various food options. La Placita de Santurce, or Santurce Marketplace, is another popular spot that offers traditional dishes, live music and culture.
El Yunque Rainforest
The El Yunque National Forest is a rainforest located on the east side of Puerto Rico. It is the only tropical rainforest in the United States National Forest System. The forest spans 28,000 acres of land and is home to 240 types of trees, birds, and native species.
The national forest also has 25 waterfalls and several rivers. El Yunque also hosts ancient petroglyphs of Taíno deities. Located an hour from San Juan, you can also go hiking, horseback riding or ziplining through the rainforest.
Puerto Rico is a beautiful island with much to offer visitors. From its stunning beaches to its rich history and culture, there is something everyone can enjoy. So, whether you are looking to relax in the sun or explore all that Puerto Rico has to offer, be sure to add it to your travel list.