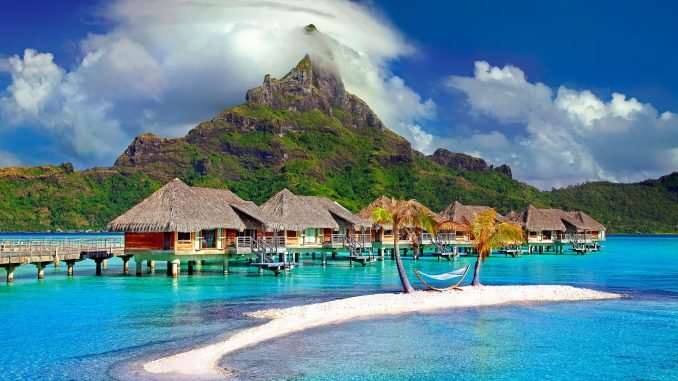 Going to the beach is an excellent way to relax and forget your troubles. The longer you stay there, the better you feel. But why settle for any old beach when you can go to Bora Bora? 
Bora Bora is one of the most beautiful places on Earth, and it's home to some of the best beaches in the world.
You can visit many amazing resorts if you're planning a luxurious trip to Bora Bora. This South Pacific paradise is home to some of the world's most opulent vacation destinations, from stunning ocean views to private bungalows in the jungle. Here are seven of the best Bora Bora resorts for your next vacation.
Hotel Royal Bora Bora
The Royal Bora Bora is a three-star hotel located around 10 minutes from Matira beach. The Polynesian hotel features tropical gardens, and all rooms are nestled in this area. The hotel also has a restaurant, beach bar, and pool that offer direct access to a white sand beach. The resort offers a panoramic view of Motu Piti Uu'Uta.
The hotel went through a renovation in November 2019. The rooms were given a more modern Tahitian makeover with minibars, air conditioning, and flat-screen TVs. The only drawback is that if you're hoping for a room with an ocean view, you won't find any here—all rooms have views of the garden.
Activities at the Hotel Royal Bora Bora include snorkeling, SUP-boarding, and kayaking. Scuba diving is another activity you can join while staying at the hotel. The staff can help you book a tour with a PADI-certified dive shop.
Matira House
The Matira House is located in the Matira Beach district and offers private terraces for guests to relax on. The resort is just 50 meters from the beach and 4.5 kilometers from the center of Bora Bora. This is an excellent option for those who want to be close to the action but still have the peace of a resort. It's an excellent place to relax on your last day of vacation.
If you're bringing a car, then you're in luck because free private parking is available for guests. Bicycles are also available for those who wish to explore the island. 
The owners of the Matira House are very knowledgeable about the area and can help guests plan their activities while on the island. The resort is clean and comfortable, and the staff is friendly and helpful. This is ideal for those who want to experience the true beauty of Bora Bora.
The Matira House has two first-floor rooms sharing a bathroom, while a third room has a bathroom and terrace. Some rooms at the place offer a view of the island's pristine beaches, while others have a garden or city view. Rates are reasonable, but payment is only made through cash.
The Sunset Hill Lodge
The Sunset Hill Lodge is a family-owned and operated hotel in Bora Bora. Each room features a kitchenette where guests can cook their meals. Shops and food trucks are also located nearby. The Sunset Hill Lodge is an ideal solution for travelers looking to save money.
Guests can stay at Villa Moana at the waterfront or Sunset Hill on the mountain. Villa Moana has four apartments with a private pontoon for guests to access a picturesque lagoon. Seven studio apartments at Sunset Hill also have access to the lagoon via a private pontoon.
Most rooms at the lodge offer a scenic view of the sea. They also provide complimentary airport and ferry dock transfers.
Four Seasons Resort Bora Bora
Located on a private island, the Four Seasons Resort Bora Bora is an idyllic retreat for those seeking luxury and relaxation. This five-star luxury resort offers impeccable service, stunning overwater bungalows, and a wide range of amenities to make your stay truly memorable. 
The Four Seasons is worth considering if you're looking for luxurious accommodations in Bora Bora.
Some of the overwater bungalows feature private plunge pools. They also feature volcanic stone walls and decorative mother of pearl accents. 
Guests also have remarkable views of Mount Otemanu or the lagoon from their luxury bungalows. Families can opt for one of the three beachfront villas at the resort. These provide more space and privacy for families traveling with children. The resort also has a kids club, an outdoor playground, and an indoor playroom. 
The resident marine biologist is available for an educational snorkeling tour through the resort's inner lagoon. On the other hand, teenagers can hang out at Chill Island. It has its stretch of sand, paddleboards, and snorkeling gear.
Activities at the Four Seasons Resort Bora Bora include canoeing, catamaran trips, shark feeding, and snorkeling. The infinity pool is also a popular spot to take a dip or relax on one of the poolside cabanas. You can also pamper yourself with a massage at the Te Mahana Spa, which offers treatments inspired by Polynesian traditions. The treatments are refreshing and rejuvenating, making them ideal for adjusting sleep cycle.
Conrad Bora Bora Nui
The villas of the Conrad Bora Bora Nui float on turquoise waters within a private cove. The resort faces the Pacific Ocean, with Mount Otemanu as its backdrop as guests approach it. Guests get to enjoy remarkable views of an endless blue horizon. 
Families and groups of friends can opt for the presidential villa that offers at least 300 square meters of space. Each villa has two bedrooms, three bathrooms, a living room, and a sauna. The presidential villa also comes with personal butler service for an extraordinary experience.
The resort has five bars and restaurants with breathtaking views and cuisines from different regions. The Iriatai is an open-air restaurant offering French cuisine with an innovative twist, while the Banyan Restaurant serves an a la carte menu from different areas in China. If you're looking for casual dining by the beach, the Tamure Beach Grill is the place to be.
You can also relax and enjoy the sunset while sipping cocktails and fine wines at the Upa Upa Lounge bar. The Tarava Pool Bar allows you to savor island spirits and light bites while relaxing at the infinity pool. 
Guests can also take a five-minute boat ride to Motu Tapu, a secluded and serene private island with beautiful beaches surrounded by turquoise water.
Le Bora Bora by Pearl Resorts
Located close to Bora Bora's main island, Le Bora Bora by Pearl Resorts is a short boat ride away from the airport. The resort is also home to a beautiful turquoise lagoon, making it the perfect place to relax and enjoy the views. The overwater bungalow at the resort features a spacious bedroom, ensuite bathroom, and furnished sundeck. 
Guests also have direct access to the lagoon at the resort from the over-the-water bungalows.
The resort also features a garden villa with a pool featuring a traditional Polynesian home design. Each villa has a spacious bedroom, an ensuite bathroom, and a sundeck area featuring a private plunge pool as well as a gazebo. Guests can also stay at the beach villa with a pool. 
Each villa features a private garden, spacious bedroom, and a living room that opens to the beach. It offers remarkable views of Mount Otemanu and the lagoon.
Dining options at Le Bora Bora by Pearl Resorts offer international cuisine with a French – Polynesian touch. The Otemanu Restaurant is at the highest point at the resort, where guests can have stunning views of Mount Otemanu and the lagoon. 
Guests who want to lounge at the beach or pool can enjoy paninis, grilled fish, and pasta at the Miki Miki Restaurant. On the other hand, the Poerava Gourmet Restaurants give guests a fine dining experience while staying at the resort.
Intercontinental Bora Bora Resort & Thalasso Spa
The Intercontinental Bora Bora Resort & Thalasso Spa is a five-star luxury resort located on Motu Piti Aau and accessible only by boat. So, you'll get the rest you need while enjoying a breathtaking view of Mount Otemanu. 
The lagoon's turquoise waters surround the resort, allowing you to rejuvenate while experiencing the only Thalasso spa in Bora Bora.
The overwater villas of the resort feature chic decor with a touch of traditional Polynesian design. They have a picture window offering views of either the tranquil lagoon or the pristine beach. 
You can also enjoy a spacious living room with a glass coffee table that allows you to see tropical fish in the pristine waters of the resort. The villas also feature a terrace and sundeck with easy access to the lagoon. Room service is also available 24/7, allowing you to dip and dine without leaving the villa.
The Deep Ocean Spa of the resort draws water from the Pacific Ocean for its treatments. The spa offers a variety of treatments that use the benefits of marine life to help you relax and rejuvenate. The facial treatments use products from Algotherm, a brand that specializes in marine dermo-cosmetics.
Travel Tips for First-Time Bora Bora Visitors
Visiting Bora Bora can be a once-in-a-lifetime experience and one that you'll remember forever. This South Pacific island is famous for its turquoise waters, white sand beaches, and lush green mountains.
While Bora Bora is a fantastic place to visit, it can also be daunting for first-time visitors. Here are a few tips to help you make the most of your trip:
You need to go to Tahiti before reaching Bora Bora. International travelers must fly to Tahiti's

Faa'a International Airport

before going to Bora Bora. You can hop on a short flight to Bora Bora Airport from Tahiti before taking a boat ride to your final destination.

The French Pacific Franc or Central Pacific Franc is the local currency. Before visiting Bora Bora, you need to check the exchange rate for the local currency. While many resorts accept credit cards, you should carry the local currency for cash transactions.

Dining in Bora Bora can be expensive. Being a tourist destination, you should expect to pay more for dining. While there are many upscale restaurants, you can also find more affordable options if you look around.

Pack necessary toiletries. Similar to dining, toiletries can be expensive in Bora Bora. So, you should pack your shampoo, conditioner, soap, and other essentials.
Bora Bora is a beautiful place to visit, and there's no shortage of things to do. With these tips, you can make the most of your trip and create memories that will last a lifetime.